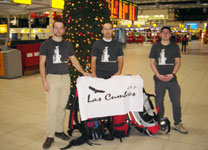 After two years of resting and training here we go with another expedition. The ultimate goal remains the same – to conquer the highest peak of both Americas – Aconcagua (6962m). This time we intended to take different paths for uphill and downhill walk – hence the name of the enterprise. There will be three of us – reinforced by Ales Oplt. We are supposed to set foot on the Argentinean soil in Buenos Aires on 5th January 2008 and then go on to Mendoza ...
>>>Continue to full article<<<
♦♦♦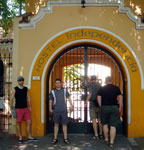 We landed smoothly in Buenos Aires according to schedule at 9 p.m. No problems with customs at all. We chose this destination because we wanted to bring some food from home and Santiago has considerably stringent rules on this. The first bus to Mendoza was departing at 5:30 a.m. and it took us good 17 hours to make it to. Aleš caught a fine cold from the air-co, so we decided to take a two-day rest. It is incredibly hot outside but the temperature in our Hostal Independencia is manageable. We did all the logistics in one day - mules to Plaza Argentina base camp will be provided by an excellent company Aconcagua Trek ...
>>>Continue to full article<<<
♦♦♦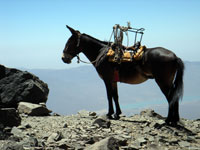 Before leaving Mendoza on Wednesday 9 January we could hardly wait to see the sunrise. We left several kilos of unnecessary equipment in the Hostal Independencia and shortly after 9 a. m. left for the bus terminal, where we were meant to meet up at 9:30 with Alejandro, the owner of Ski & Montana agency, to take us to Vallecitos – a mountain resort some 90 km further off serving as a base for staying in the Cordón del Plata mountain range. Everything worked out fine. After a short break halfway in Potrerillos, where Vlada´s nose started to bleed ...
>>>Continue to full article<<<
♦♦♦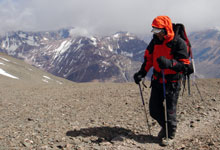 After the previous climb by nearly 700 metres, we have put in rather a milder dose for Sunday (January 13). From El Salto (4200 m) to the camp Hoyada (4600 m). The climb is quite short, but gets relatively steep at the end. It still was quite a heavy job with the backpacks. When we met up in the camp, I had moments of genuine "reel" and headaches. Vlada and Aleš were fine. To better cope with the altitude planned for overnight stay we made it to a nearby saddle at 4850 metres. While squatting for drinks and biscuits we ...
>>>Continue to full article<<<
♦♦♦

Back from acclimatization in Cordón del Plata we've got just one day to get everything ready. We have to buy entry permits for the Aconcagua National Park, get transport, mule, food, gasoline and many other things. This day is not over, we make a full use of its 24 hours ...
>>>Continue to full article<<<
♦♦♦
As already mentioned, the departure for Aconcagua on Friday 18 January 2008 was a bit hectic. No sleep, too much "liquids" and a lot of heavy bags that we had to get on the bus and manage to get off at a point where the coach is not supposed to stop! Hostel Independencia receptionist called us a taxi. We stuffed all our gear inside and set off for the bus terminal. The EUSA company coach (Expreso Uspallata) took us on board without any difficulties, including our bulky luggage ...
>>>Continue to full article<<<
♦♦♦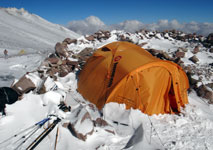 On the morning in the Camp 1 it feels fine. The weather got better, the sun appeared and the clouds stay somewhere down in the valleys. We don't hesitate and carry on upwards. Our aim for today is the Camp 2 - about thousand metres higher up (5850 m). There are other groups going uphill. We all go like slow motion. A single step takes about two or three seconds. It's not like we couldn't walk faster, but it's simply not wise to sweat too much and to gain altitude too quickly, since this is not yet the summit attack. It's about saving energy and allowing our bodies some time to adapt ...
>>>Continue to full article<<<
♦♦♦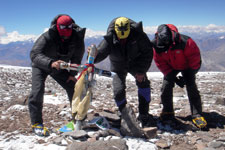 Back in Mendoza we checked our weight again in a nearby pharmacy. It turned out that we have lost the most during the acclimatization that toughened up our bodies in such a way that the losses at Aconcagua were almost negligible. As obvious from the picture, Spidermen did it as well! They reached the summit gradually in the following order: yellow, red and black. But during the climb we met other madmen too. We met Vincent from Canada first in the camp 1 while on the way up (4 850m). In the second camp (5 850m) he tried to attack the summit in a nasty weather ...
>>>Continue to full article<<<
♦♦♦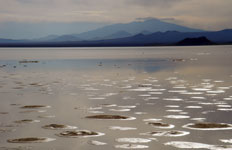 When leaving Aconcagua, we had only one thing in mind - steaks. Preferably asado al horno, which means a fair pound of beef. There's Hertz car rental right next to our favorite restaurant Quinta Norte by the Independencia Park. They were so nice to upgrade us to a better car for the price of the cheapest category! Pick-up on 30th January and return on 2 February (570 pesos). Our next steps led to Aerolineas Argentinas - Austral. Aleš was looking for a flight from San Rafael or Mendoza to Buenos Aires, from where he was meant to fly back to Prague on the 2 February ...
>>>Continue to full article<<<
♦♦♦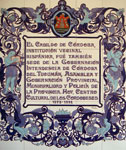 After four weeks of roaming in the backcountry and discovering the natural beauty of Argentina we switched to a bit of urban travel. University town with a rich history and colonial architecture. We were approaching the second biggest Argentinean city in a night sleeper coach of the Chevallier company (luxury Coche Cama). We were somewhat worried if we were going to find a taxi willing to take us downtown at 7 a.m. But, like in Mendoza, there were crowds waiting in front of the terminal and taxis were leaving one after another. We failed to explain where we wanted to go and instead of the cheap youth hostal Cordoba Backpackers, the good man dropped us in front of two four-star hotels ...
>>>Continue to full article<<<
♦♦♦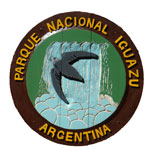 Visit to the Iguazu National Park is first of all a visual experience. That's why so many pictures in this article ... The journey by coach from Córdoba to Puerto Iguazú was just too long - more than 22 hours. Although the coach was very comfortable, we arrived at the Inn hostel in a rather lamentable state. The hostel was a fine surprise. It was a sort of luxury living that we were not used to. Huge lounge, generous spaces, swimming pool right in the front, palm trees and six separate cottages. We paid a bit more (40 per night per person) and so we stayed on the second floor of the cabin in air-conditioned bedroom for 4 people ...
>>>Continue to full article<<<
♦♦♦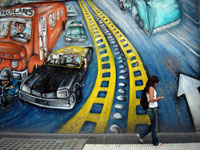 The plane of Aerolineas Argentinas (Austral) took off and we had a bad luck. We were on the other side of the aircraft and couldn't see Cataratas del Iguazú from birds eye. We were thinking that we would have paid for this extraordinary experience even those $ 70 p/p requested for a fly-over above the Falls in a helicopter. Sadly enough, this attraction was only available from Brazilian side, which we left out. What we wanted most, however, was to be back home. Aeroparque Jorge Newbery, for domestic flights, has one advantage ...
>>>Continue to full article<<<
♦♦♦