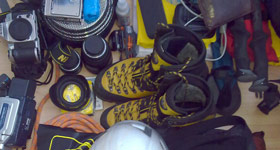 Just a few minutes and we are taking off! First to Amsterdam where we will be daring enough to board a Kenya Airways plane. If everything goes according to plan we should be landing at the Nairobi airport shortly after six o'clock in the morning on Sunday 5 September 2010. The last few hours prior to departure were marked by a traditional launch-rush. Phones ringing, backpacks at least five kilos over limit …
>>>Continue to full article<<<
♦♦♦
The last hours are always hectic. Few of us can prepare everything in advance and produce a perfectely packed and weighted backpack two or three hours before departure and just take the passport and money and slowly go to the airport. Our way is that we are in a constant touch from early morning, troubleshooting, deciding who takes what and guessing who will have the heaviest backpack to carry. Actually, everybody knows that from the very beginning. I am always the one to have the largest and heaviest packs ...
>>>Continue to full article<<<
♦♦♦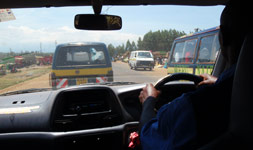 Fine service, good food and even a few moments of sleep. The flight to Nairobi is perfect. Just one tiny issue – my personal entertainment system does not work. So for now, I'm looking over my neighbour's shoulder to watch the Prince of Persia…but without sound it's not ideal. We shift the clock one hour ahead. The sun is about rise and we touch the ground safely at Nairobi Jomo Kenyatta International Airport ...
>>>Continue to full article<<<
♦♦♦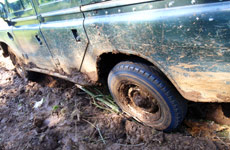 Errors have to be paid for. And we made one very early. We didn't respect the basic rule described in all guides - always check and agree in advance the price of whatever service. In the evening after the walk we went to the hotel restaurant to have a tea and to book breakfast. We wanted to enjoy luxuries of civilization for the last time before leaving for the mountains. On this occasion we decided to settle the bill ... "Your bill, here we go. 7300 shillings, please." ... We are flabbergasted. Impossible! Unbelievable! This simply can not be "our" bill ...
>>>Continue to full article<<<
♦♦♦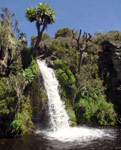 Getting up in the morning is still somewhat difficult for us. It's cold outside. We try to eat a bit, later in the day we will see it was too little. We pick up our bags from the ranger's shed and pay. The entry fee for the Mt. Kenya National Park consists of a "fixed" amount of $ 150 per person and the first three days. Each day that follows ("extra day") cost 55 dollars. We fill out a giant guestbook. And then it comes to payment. It seems that whenever it comes to paying in Africa, it can not happen without problems. Moreover, in the morning I lack a bit of distanced view and I get a little cranky ... We spend 10 minutes filling out a special form with serial numbers because we arrived to Africa with pockets full of small notes ...
>>>Continue to full article<<<
♦♦♦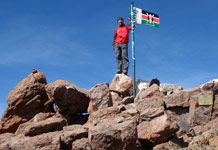 There's not much room in a tent intended for two, so we have to get up and dress up gradually so as not to collide with each other. The first one is worst off, since he is the first to leave the warm sleeping bag, pack it quickly and make room for the others. Yesterday's double-dose of Aspirin helped us considerably and we feel good and don't totter anymore. Still inside the tent we scoff bread with cheese. Lada is the first to leave for the cold air. It's 5:30, we set off ...
>>>Continue to full article<<<
♦♦♦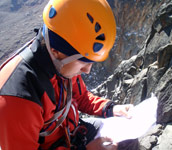 After a violently interrupted night our morning activity is close to zero. Feeble movements, along with efforts not to vex Pavel too much by our early get-up mean that for the climb to Batian (5199 m) we set off almost an hour later than planned. It's past 05h30 and we are trying to find the right trail. In other words this means that we are willing to jump the stones like fools only to avoid losing but one altitude meter. If we weren't so lazy yesterday afternoon, we could have easily walked those 500 meters from the camp to have a careful look at the access path ...
>>>Continue to full article<<<
♦♦♦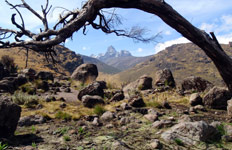 Tired after yesterday, we went to bed soon. At night the wind was blowing pretty strong and in the morning the temperature inside our tent was -6 °C. We don't feel like getting up. We slowly prepare tea and get out only after the first sunrays have touched our temporary dwelling. The carriers are on time. Business is business and even in Africa it apparently doesn't pay to be late. Journey to Shipton Camp (4236m) is short. Only a few hundred metres down the hill surrounded by tall lobelia ...
>>>Continue to full article<<<
♦♦♦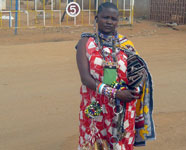 After a luxury breakfast rounded off by fragrant coffee we pay acceptable 350 KSH and drag our luggage to the door of Ibis hotel. Just one night helped to none of us to regenerate fully. Ben is standing at the door. His minibus is nicely decorated with a number of padlocks. We are the only passengers. We pass by Naro Moru, starting point for one of the most popular access routes to the Mt. Kenya National Park. The road runs along an old railroad built by the British. We doubt it is still used at all but Ben assures us that once a week freight trains pass through ...
>>>Continue to full article<<<
♦♦♦
We wake up thanks to a loud muezzins´ production. It's still dark outside. For a while, I can't get what is going on - trying to feel my watch iu the dark. I stare at the clock and can't believe it. It's only four a.m. Breakfast is included. Not a great feast but better than nothing. Yesterday evening, while we were enjoying the life on credit, we managed to get a small talk with the waitresses. One of them agreed to arrange a meeting with a guide for tomorrow morning. Siranji Saíd, sturdy guy in his thirties, sits down with us to have a chat ...
>>>Continue to full article<<<
♦♦♦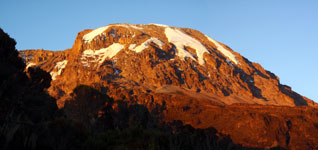 We are nervously kicking our heels at the doorstep of Buffalo Hotel. The agreed departure time is long gone and the awful quietness of this dusty street just adds to our anxiety. We paid $ 2 700 ... we have a maximum of five days to try to climb up Kilimanjaro, no money left... and our agency nowhere. 45-min delay, one-hour delay. A Land Rover arrives after half past nine …
>>>Continue to full article<<<
♦♦♦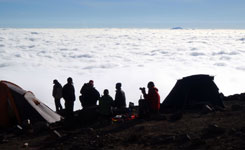 We awaken to a beautiful day. After yesterday's hard work, it's only four hours to the Arrow Glacier campsite (4 900 m). We feel good and have no doubts that we can overcome the 1km vertical drop without any problems. Our helpers are at their best. Such breakfast, we really did not expect. They are skillfully covering the white tablecloth with all kinds of goodies. Pieces of mango followed by hot semolina porridge with honey, then eggs with toast and butter, vegetables ...
>>>Continue to full article<<<
♦♦♦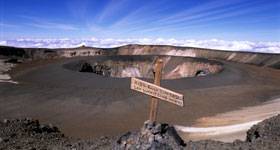 In the frosty morning we say goodbye to our three carriers. Unlike Eugene and Jomo, who continue up with us, these guys will run down to the Millennium camp (3797 m) on the Mweka descent route, where we are supposed to meet up again tomorrow afternoon. Above us rises almost a thousand meter wall of rock. Bordered on the right side by the steep Breach Wall and by the remnants of northwest glaciers on the left ...
>>>Continue to full article<<<
♦♦♦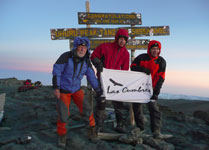 It's coming up to six a.m. A splendid sunrise just begins and we stand together by a wooden sign saying: "Congratulations! You are now at Uhuru Peak, Tanzania, 5895m ...." We are on Kilimanjaro´s main summit named Kibo (5 895 m), the highest free-standing mountain in the world, which rises more than 5 000 metres above the surrounding East African plain. We got up into a frosty morning and had a few slices of dry toast bread splashed by cold water with chunks of ice. We quickly pack our tent in severe wind ...
>>>Continue to full article<<<
♦♦♦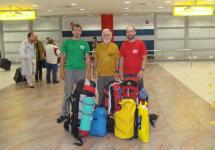 During the unplanned day off in Moshi we are just hanging around, buying souvenirs and gifts, steaks, drinking beer... Before dusk and for the first time during our stay in Tanzania the clouds give way to clear sky, so that we can see the magnificent Kilimanjaro and say goodbye. On this occasion we allowed ourselves to smuggle a small bottle of whisky to the non-alcoholic restaurant Deli Chez. It's coming to 5 a.m. and we walk about the silent city with our backpacks smelling the Tanzanian coffee ...
>>>Continue to full article<<<
♦♦♦