Nairobi or Chogoria?
Added: Sept. 24, 2010 | Date of action: Sept. 5, 2010
Author:
Martin Linhart
Photos:
Martin Linhart
|
Ladislav Lenc
|
Pavel Oplt
Tags:
2010
|
Afrika
|
Chogoria
|
Keňa
|
Nairobi

Fine service, good food and even a few moments of sleep. The flight to Nairobi is perfect. Just one tiny issue – my personal entertainment system does not work. So for now, I'm looking over my neighbour's shoulder to watch the Prince of Persia…but without sound it's not ideal.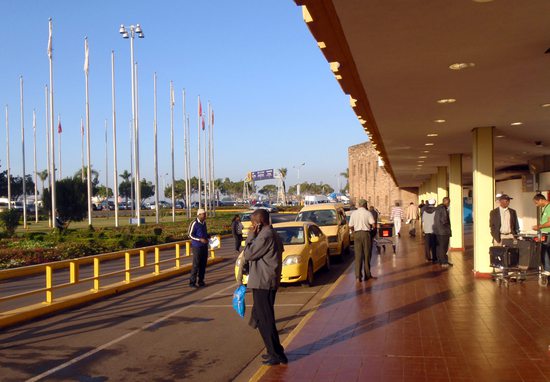 We shift the clock one hour ahead. The sun is about rise and we touch the ground safely at Nairobi Jomo Kenyatta International Airport.
I read in the guide that on Sunday the only working exchange office is in the transit area. So right after getting off the plane our wallets are $ 500 lighter – but only to be loaded to burst with tens of thousands of Kenyan shillings. By the way, the information in the guide is not entirely correct. Even outside the arrivals hall there are open exchange bureaux with virtually same rate, so there's no need to panic. But the fact is that banks in the city are closed on weekends. Don't know how about the exchange bureaux, since we ignored them from then on.
We dash onto the entry forms.
"So which one?"
"Let's try out the white."
"No way, I'm gonna attack the rose and yellow!"
The forms lying around are a bit too many. Finally, we take three different types. Yellow entry card, pink visa application and customs declaration. In the visa application we tick the box "multiple" – the "single" would not be enough for the trip to Tanzania and back to Kenya.
"Look in to the camera."
I gaze from twenty centimeters into a small ball standing in front of me on a long metal stick and the strictly looking police officer is clicking something on the PC purchased from EU funds.
"Your right hand."
I don't get it. I didn't look at the previous "customers" because we were talking and now I'm confused. He repeats his call and gives me a look telling that I'm dragging the others. Oh yes, the weird-looking illuminated box on the side of the welcome desk is a fingerprint scanner.
"Thumb. Left hand and thumb."
All fingers scanned. Now we come to the visa talk. The police says to me, without any chance for me to say anything, that he is giving me the "single" for $ 25 and that there will be no problems at the border when re-entering from Tanzania. OK. The other guys follow and in a few moments we are done with all the formalities. Backpacks arrived too and, fortunately, the customs guys didn't want to have a look into them (the imported food might have been a problem).
Now we have to get to the centre of Nairobi, respectively to the commercial centre to buy gas cartridges. Not to underestimate anything we carry two types of stoves - Camping Gaz "quick-fit" and the other stove for cylinders with screw thread. Prevention's better than cure - we could not do anything without stoves.
"Ya, Ya, Center Argwings Khodek Road. How much is it for the three of us, including baggage?"
"2500."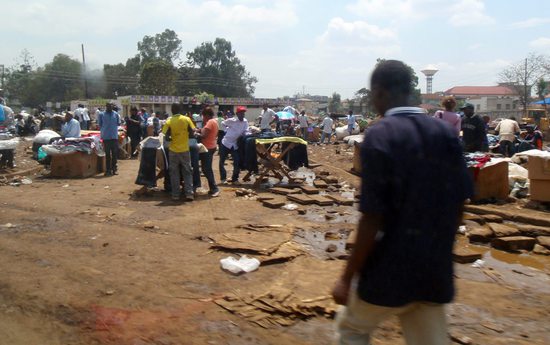 Oh shit! Although we do not have any experience with local prices, this is a bit too much! After a brief bargaining we manage to get it down to 1500 Kenyan shillings.
I did not realize that they drive on the left side and I rushed to the driver's seat. The driver does not lack the sense of humour saying something like that it was not going to be any cheaper even if I drove. Nairobi is just waking up to a new day and apart from the seats of some businesses along the road there's not much to look at.
In the shopping mall the only open thing is a cafe. The first thing that we relish in Africa is "cafelatte" with crispy "chocolate-filled croissants". Not a bad start.
We spot the Camping Gaz cylinders in the shop window of Auto & Care. Just need to wait for them to open. In the meantime, while looking for toilets, we familiarize with the head of security, Paul. He lets us go to the staff toilets and promises to get a good taxi driver for us which will take us to the city centre and should arrange the follow-on transport too.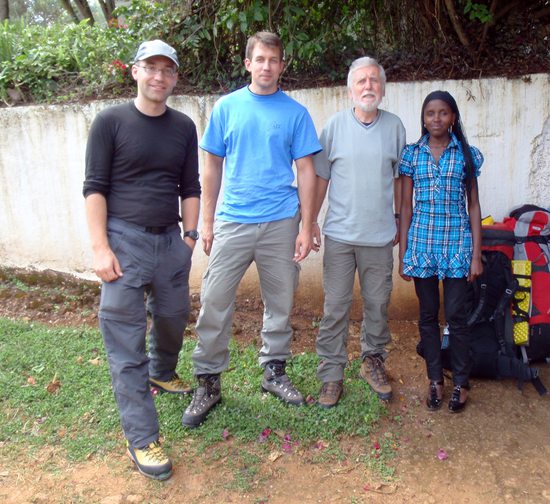 Indeed, we decided after a brief meeting back at the airport in Prague to change the original intention of staying the first day in Nairobi. There's no time to waste and if we want to make everything we want, we just need to head straight into the mountains. Today's goal is to reach the town of Chogoria - a few tiny houses by the main road with only one option for accommodation available - but have not pre-booked. Chogoria (1500m) is approximately in the same altitude as Nairobi (1600 – 1700m). So getting up to here will be of no advantage in terms of acclimatization, but if we manage to get the organisation right, it means that tomorrow morning we could already be marching towards Mt. Kenya.
Everything turned out fine. We buy one more expensive cartridge Camping Gaz (850 KSH) and two screw-cylinders Primus (695 KSH/piece). We take bread, water, cheese and other stuff. Finally, for 500 KSH, we move into the fiercest centre of Nairobi.
"Box?"
"What?!?."
I'm staring wide-eyed at a much worked up local guy ready with his fists in a boxing stance.
"Box?"
"No, thanks. I'd rather get a matatu to Chogoria."
I politely refuse the boxing match and explain what we need here. Streets of Accra, Cross and River are unbelievably crowded. A scrum of smaller and larger white trucks - the most popular means of transport of have-nots - matatu, with dozens of touts fussing around…we can even spot some tags with the destination names but it's really a mess. The city had already woken up and pulsates to the fullest here.
"Come on, come on, let's box!"
I am constantly harassed by the local heckler who's apparently amused by my embarrassment caused by the unexpected challenge.
The situation calms down. A taxi driver arranged a private matatu for us. That means that we buy up all the seats and can sit our backpacks on them. The price of Ksh 4000 for a distance of nearly two hundred kilometers seems fair to us – and in a situation where I am constantly being called to box I just don't feel like negotiating a discount! We take the deal. By the way, the guys at the airport were asking KSH 17 000 for the same!
The Boxer helps me with the backpack and two other pieces of baggage while still managing to pound at my shoulder (as a reward he gets a little tip). Colleagues are also being helped, it's just that their helpers are not so "playful" as mine. We sit down with great relief. The first intensive contact with the city scared us a bit. A young girl with a suitcase takes the seat next to the driver's. Let's go!
The northern suburb of Nairobi, to put it mildly, is not a good place to live. The driver is crisscrossing the road from right to left, zigzagging among other matatus and deep craters in the asphalt surface. if there's any. A better road is being built aside. The drive is an experience in itself. We gradually cease to worry about our lives. It seems as if all the seemingly pointless twisting of the steering wheel, sudden braking and brave jumps over giant humps had some hidden order, invisible to Europeans. People are running along the road and cross even what is considered in local conditions to be a highway…. and to all this there are a lot brave cyclists with their bicycles carrying huge loads of stuff. It seems to work!
Our co-passenger Justar is a student. To our surprise the talk begins by asking if by any chance we were from the Czech Republic? It turns out that recently she spent several weeks on an internship in Germany where she met a few Czechs and picked up a bit from our language. We learn many things from her about Kenya and Kenyans.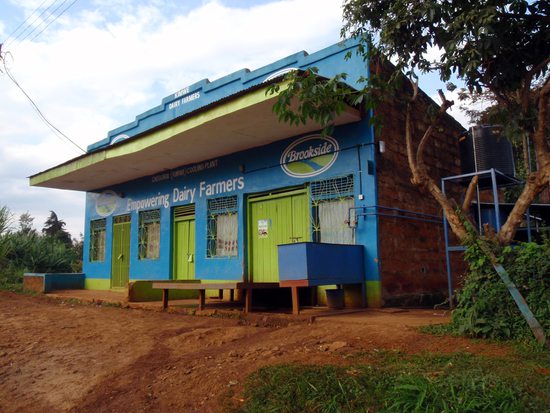 The landscape changes. Although the altitude remained the same, closer to the mountains everything gets greener and more fertile. The first thing that draws attention is the bright orange-red soil. We pass through small towns of Embu, Ena, Runyenjes, Chuka, Ndagani ... with bright yellow-green stalls along the road. We are still jumping over the bumps that are everywhere and are the only way to make drivers get the speed below 100km/h for at least a brief moment. But nothing can prevent them from getting back to 100/h even between two jumps barely 500 meters from each other.
We take left and enter a dusty trail. After three hours of wild bumpy ride and reckless overtaking we finally stop in front of the Transit Motel in Chogoria. They have vacant rooms. We take a room for three and arrange a meeting with the boss of local "sherpas".
Norbert is an elderly man hidden behind dark glasses. He is a tough negotiator. On the map we show him our plans and where we want to have our things carried - Kami Tarn (4400m). We count three days to get there and will need three carriers for these three days.
An hour passed and the negotiation is still dragging on. But we managed to have an excellent lunch that we ordered from the hotel restaurant. There is no hurry. We sip tea….but both sides are well aware that they have to come to an agreement still today.
♦ ♦ ♦
At the beginning it looked like as follows:
Car (distance to the gate of the National Park is 26km)
All the way - 7000 KSH
Halfway - 4500 KSH
First leg up to the forest gate (about 5km) - 1,000 KSH
Carriers (we need three for 3 days, respectively 4 days, since one day is counted for their return)
Backpacks (we need to borrow two, we only have one waterproof bag usable as a backpack)
The result is 17 000 KSH for three carriers with backpacks and 3500 KSH for transport halfway by jeep. We pay KSH 5000 in advance.
♦ ♦ ♦
Before sunset we make a short walk in the village. It's Sunday evening but to our surprise we meet a whole class of girls in uniforms. The girls giggle and ask what are we doing here, where are we going and that we could pay a visit to their school institution…We can't.... We need some rest after a long journey.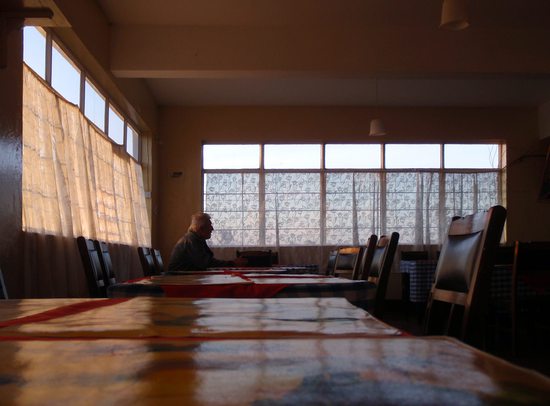 An encounter with a lunatic devotee of Allah is a kind of unpleasant intermezzo of our evening walk. The guy is apparently drunk and mumbling something about money from the West, God and bin Laden. Unfortunately he is also firmly determined to keep us company to protect us from all dangers of African civilization. We politely refuse. The relentless chap keeps haunting us for about another kilometer. Finally, he gives up….to our considerable relief.
We set the alarm-clock for six in the morning …