Africa 2010 – Mt. Kenya & Mt. Kilimanjaro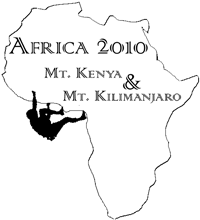 The intention was to climb up the two highest hills in Africa: Mt. Kenya (5199m) and Kilimanjaro (5895m). However, we didn't want to stick strictly to the well-beaten hiking trails ...
The two highest points in Mt. Kenya massif are closed to tourists. They are called Batian (5199m) and Nelion (5188m). It was because of them that we carried all the climbing gear with us. In the case of Kilimanjaro and it's highest peak Kibo/Uhuru Peak (5895m), the situation was considerably complex. Our intention not to follow the ordinary hiking trail went into the wall… within very limited time we failed to negotiate a climbing permit. Nevertheless we did finally enjoy the climb without the crowds and even tried to get some sleep in the crater of the highest African mountain.
---
Articles overview
© Las Cumbres (2005 - 2021)