Iván Vallejo - climber turned national hero
Added: Nov. 13, 2013 | Date of action: July 1, 2012
Author:
Martin Linhart
|
Jiří Šurman
Photos:
Martin Linhart
|
Marta Léblová
Tags:
2012
|
Ekvádor
|
Iván Vallejo
|
Jižní Amerika
|
Quito

---
---
"Listen, Martin, come to my house. I have time and I'll be glad to talk to you." First day in Quito, I still feel dizzy due to the altitude, but am I dreaming? The Ecuadorian legend and the first South American to climb all the eight-thousanders without oxygen, is gonna give me an interview. Iván has just come back from his second attempt at the Cassin Ridge on Mount McKinley. He had bad luck again due to snow conditions. But it didn't spoil his mood. A smiling energetic guy invites us to his living room with amazing views of the range of white volcanic cones looming on the horizon. Cheerful as a young boy he says that he's gonna try the Ridge one more time. "Three times and enough!"
♦ ♦ ♦
What is it like to stand atop a mountain?
I was a little boy, eight, maybe nine years old when I first realized that I love mountains. I was then in the second year of the basic school in Ambato, which can be found among three big volcanoes: Tungurauha (5023 m), Cotopaxi (5897 m) and Chimborazo (6310 m). This is amazing about Ecuador. Mountains are just round the corner. My mum and I were seeing our friends who lived south of the city, and there, looking at the mountain I was thinking for the first time. "How to get to its summit? How would I feel there?" In late afternoon I stood in the backyard with spectacular views of Tungurahua and admired those masses of snow and ice. One could see every detail. For long minutes I stood like frozen by the stunning views. Then I asked my mum, if I could meet someone who would be able to climb such mountains. I learned about people called andinistas. I insisted that I needed to get to know an andinist. One or two months passed and mum, who didn't forget, introduced me to one such man. It was a boy from our neighbourhood. Ephraim. For me, he was almost like god. I spewed at him a waterfall of questions. "What are crampons, how to use an ice axe ... what do you feel when you're on top of a mountain?" Time went by and I got to think more and more that it would not be bad at all to become a climber. When I was twelve, by a happy coincidence, I came across a book. "Look, I still have it here... it's a piece of my life story, so I cherish it. This is it - LAS MONTAÑAS." I've fallen in love of the whole of it. But still, the part that excited me most was called Man and the Mountain – on the great dream of people to climb to mountain peaks. And then it was the story of the first conquerors of Everest - Tenzing Norgay and Edmund Hillary. I would stare for long minutes at the picture on page 185 - Tenzing on the summit of Everest with the ice axe above his head.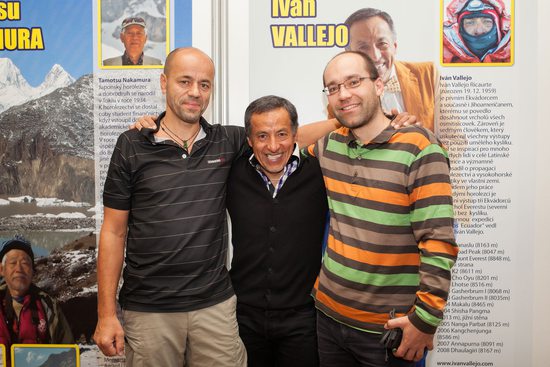 Photo: Jan Holomek | f56.cz
At school, in a class called orientación vocacional we were asked to produce a drawing depicting our life dream. An idea of our brilliant future. My mates were drawing how they were going to become lawyers, doctors ... I showed my picture to the teacher. "I stand with my hands up, with an ice axe in my right hand and the Ecuadorian flag in the left. I wear a warm hat, a beard, just like today, an anorak and pants and huge boots. At the bottom I put a note: "When I will be older, on the summit of Everest". You don't believe me? Look, this is the picture!" My dreams that my mother kept in a drawer for long years. "In Spanish we call it bendición." A blessing. What I wished as child came true.
My first real climb was the peak of Illiniza Norte (5126 m). I joined the mountaineering club. Plenty of amazing memories of the people who helped me and inspired me. People like Ramiro Navarrete, one of the greatest Ecuadorian climbers. Unfortunately, he died at Annapurna. During descent a snow bridge cracked under his feet. He taught me to always follow a natural development. To reach goals gradually, work hard and not to rush headlong to the highest peak. We did a lot of climbing in the club. Carihuairazo (5018 m), Tungurahua, Cotopaxi. The highlight of this period was Chimborazo, the highest mountain in Ecuador. I achieved it only at the third attempt! Previous ones I was so tired that I was beginning to think that Chimborazo is beyond my strengths. I graduated from school, entered university and reached my first major mountaineering milestone.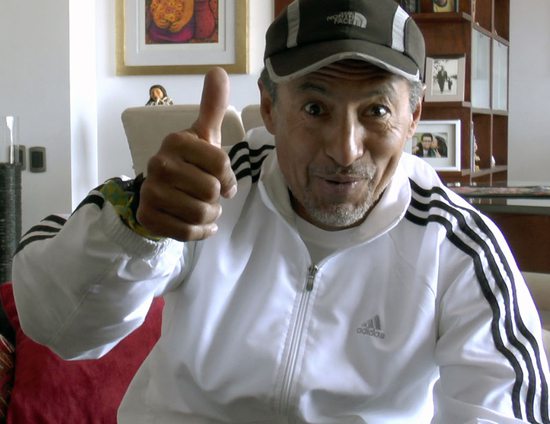 The years after graduation from university were another turning point. I started to work. I had my first own money and could look beyond the borders. To Peru and Bolivia. "When you're 23, you think just of climbing ... those were great times." Alpamayo (5947 m), Artensonraju (6025 m), Huascarán (6768 m), first climb of the Bolivian Illampu (6368 m).
What's the difference between us? I don't have money!
In 1995 I travelled to the Himalayas to climb Pumori (7161 m). I didn't even think I was supposed to have a permit. It was impossible for me to put together such an amount! I was sure, however, that it will somehow be possible. I arrived at the BC and saw so many people checking each another that I immediately understood that I was foolish. That the only place where you get this way is a prison. I was terribly disappointed. I stayed two days in the base camp. "I met an Austrian there. Great guy. At one point it occurred to me, we have so much in common. Two legs, hands, heart, the same desire. What's the damn difference between us? I just don't have the money!" Before returning to Ecuador I climbed at least the Island Peak (6189 m). Right. Without a permit. Only on crackers and Chinese soup.
I came back convinced that if we can get money, we can do great things in Nepal. Even to climb Everest one day. With friends we sat down and made a plan. One seven-thousander, then one or two eight-thousanders and then Everest.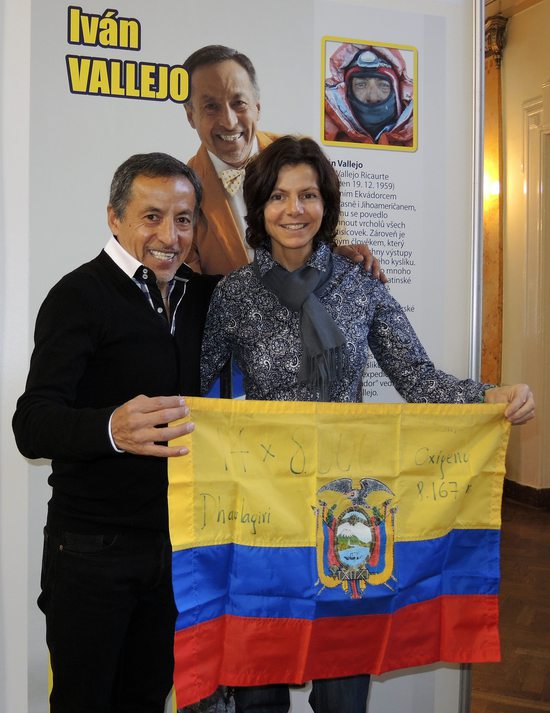 After two years we set off for Ama Dablam (6812 m). A beautiful exposed mountain that was supposed to help us to attract sponsors. It did not. "The reality then in my country was such that we couldn't put together enough money for the whole team. I was forced to go to my first eight-thousander on my own." Manáslu (8163 m). This mountain was a great lesson for me. It was there I met Kari Kobler, a Swiss guide who took me a year later for an expedition to Broad Peak (8047 m). At the first two eight-thousanders I confirmed to myself that I can work in big altitudes. I learnt what to eat, how to prevent frostbite, how to get properly acclimatized... Kari helped me a lot. It was part of the process, which I needed to go through. My ultimate goal was Mount Everest.
Back as national hero
In December 1998 I had everything perfectly ready, including the necessary sponsors. I felt ready as well. Six weeks before departure, something unexpected happened. Ecuador defaulted on its debt. All banks closed, no one had access to accounts. Two of the main sponsors gave me a ring. "Look Iván, we are really sorry, but we don´t have the money." This happened just a few weeks before the expedition! I felt like crying. "I have fought teeth and nail for four years to make my dream reality and the damned president broke it all in a single day!" 24 hours later I was back in motion. I jumped on a bike, since the public transport collapsed and streets were full of protesters, and I was making a tour - from one business to another, asking them to help me out, so that I can go to Everest. Because of money I had to change my plans and go to the north side, to Tibet. My dream of the south wall vanished in the haze.
It was only in Kathmandu, where I bought a guidebook about the climb from the Tibetan north side. I was learning on the way…where to go, which trail to follow... I had a headache; it was a lot of pain and suffering. Looking back, I can hardly understand how I could survive two days at the last, fourth, camp in 8300 metres.
When I returned to Ecuador, it was an incredible sensation. After the bankruptcy people were down, they lost property, many had pretty much nothing, and there were a lot of suicides. For the people, my climb to Everest was an amazing boost. Suddenly, it was as if they regained their lost dignity. It was touching and I lived a great time.
I was back at home when the phone rang. "Do I please speak to Mr. Vallejo?" "Yes." "I am Teresa, assistant to the director of our company, he would like to talk to you. Is that possible?" "Sure." At the other end of the line it was like: "Congratulations, Mr. Vallejo. I have a question to ask you. Could our company become sponsor of your next expedition?" At that point, I was like paralyzed. I sat there completely puzzled. They are offering me money! Am I dreaming? "Could you please repeat that?"
Down to earth
I climbed up Everest. What next? At the BC I met a Belgian who was going to the North Pole and to me it sounded like a great idea. Big cold, far off ... I called at my friend and personal physician Oscar who helped me to get up and I shared my new plan with him. "You're kidding, right! After so many years of training you want to go to the North Pole? Pulling the sledge? Bullshit! Get out, Iván and come back with something better, with a new project." It was a chill. It took me two months to bounce back. "K2!" "That's it. This is a damn good plan!"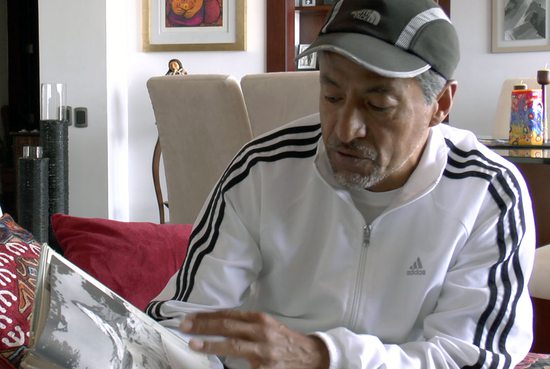 K2 gave me a lesson about how harsh the mountains can be. The last day of July I was alone standing atop. A year before on Everest I enjoyed it, and stayed up there for over an hour. Here, I fled after twenty minutes. The wind was unbelievably strong. And the cold. I was scared by the descent. And it was terrible, indeed. In 8200 metres I was caught by storm. I could not find the fourth altitude camp. Horrible moments. I couldn't find my way, the white dark all around. My buddy was waiting for me at the camp, and when I finally arrived, we had to hold the tent with our hands whole night. It could have broken down every second.
Right after coming back from K2, I prepared the project Desafío 14. Since I had the chance, I thought it right to make my dream come true and have another go at Everest. This time from Nepal. And if I am strong enough, I will try to carry on to Lhotse (8516 m). Eventually, I didn't have enough strengths. I stood atop only on 24 of May, at the very end of the season. "I think one should pursue his dreams, and I would never forgive myself if I didn't try to climb from the south. In the footsteps of the heroes of my childhood."
My first failure at an eight-thousander didn't come before spring 2002. I failed to climb Kanchenjunga (8586 m). "It was a very useful lesson. To survive you need to have a good deal of humility." In retrospect I think this mountain is the most difficult of all the Himalaya Crown. I first had a go from north. We were making our way up completely on our own. No one was trying it from the north at that time. Despite two attempts to reach the top, I had to backtrack each time in 8000 metres. It was very dangerous. Snow conditions were not good at all.
Four years later, in 2006, I was back at the foot of Kanchenjunga. I chose the southern side. And it turned out that my Colombian partner Fernando and I were lucky, because this time we were not alone on the hill. We met friends from Spain and another international expedition. Our two-man team was the smallest. The weather stopped our first summit attempt in 7600 metres. We briefly rested in the BC and decided to have the last "go of truth". Everything went fine up to 8350 metres. The summit was almost at hand when a huge storm came. "I can tell you, I broke down in tears. I thought it was the end. I give up the whole of this mad project. I'm going back to Ecuador. I toil for years like mad only to be eventually stopped by the weather!" After a total of four top attempts, I felt tremendous frustration. I was tired and hungry.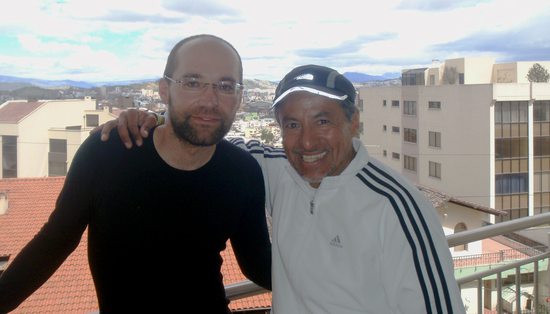 In the night that we spent in the third altitude camp, the weather miraculously cleared up. At that moment, we were six up there. Fernando and I, and four Spaniards. An idea came to my mind. "Mad idea of a mad man." I asked who will go with me. "Iván, the idea is good, but I really cannot anymore." They replied in one voice. Everyone, including me, was exhausted. I radioed to the BC and it turned out that there was a guy, João García, who missed the attempt of his team due to sickness and intends to go up alone. "João, I am waiting for you in C3." "OK." We proceeded together to C4. The fatigue was indescribable. I made it to the tent literally crawling an hour and a half after João. I really had doubts about myself. We left our tent at three o'clock in the morning. I will never forget those last five metres. I was full of emotion and it wanted out. This harsh toil lasted 14 hours. After five o'clock in the afternoon I reached the peak of Kanchenjunga, on my knees and in tears. "What I lived there were the most beautiful moments of my life as climber. I felt the touch of God." After fifteen minutes we began the descent. A horrible fatigue took control of me. I tried to slide down on my ass, pushing along with hands, or I just stood and breathed. It was dark night, after 10 p.m. when we got back to the tent.
After such an experience, it was not easy to stand feet firmly on the ground. A strong 10-member team gathered in 2007 for Annapurna (8091 m). The apparent risks at the normal ascent route forced us to choose an alternative one. Even there, however, we couldn't avoid very difficult moments. A 150metres tall serac stood in the way. It took us good seven hours to get over it. "At such moment you ask a lot of questions about the meaning of your undertakings and the risk you are willing to accept. What's more, this is Annapurna, which is simply not the friendliest hill. Your mind's working like crazy. Motivation is gone." Six people gave in. They burnt out. They just didn't handle the pressure. The remaining three: Sergey from Russia, Andrew from Australia and my Colombian partner Fernando turned to me. "Ivan, it is up to you. If you go, with go with you." When six brilliant and experienced climbers decide to go down, you have a lot of doubts. "We are gonna see in the morning." I think I felt there a good connection with the mountain. I felt we had a decent chance and got rid of my doubts. In the morning we set off. Due to carelessness Sergey eventually stayed waiting at the altitude camp. The previous day he took off his glasses several times and suffered partial snow blindness. At three o'clock in the afternoon, of the next day, Andrew, Fernando and I reached the summit of the most redoubtable eight-thousander – Annapurna.
Meeting the Czech folks
The club of people who climb eight-thousanders is small. It is always nice to meet with people who have similar desires and dreams. My first encounter with the Czechs was funny and I like to recall it. It was under the south wall of Shisha Pangma (8013 m). I felt like making a tour of other expeditions´ tents. It's also good in terms of agreeing on cooperation in the ascent route. I got into the social tent, said hello. There were, I think, two members of the expedition. One of them really big, like a bear, and then Radek. The guys were incredibly friendly. I remember Radek saying: "Tomorrow morning, I invite you to breakfast. At half past eight." I said it to Santiago, my buddy. We were happy. We were expecting like tea, bread and butter, eggs, coffee... Well, at half past eight we popped in their tent and Radek says: "Iván, find a place, sit down and this is to start our breakfast." And he shoved me a huge glass of spirit. Slivovitz, perhaps. Even with my sleepy eyes I just stared like a lunatic. "This is the starter? This lamp! You're kidding, Radek!" We didn't climb a lot that day, but became friends. Radek achieved Shisha Pangma the day before and was happy to give us some hints on the final phase of the climb.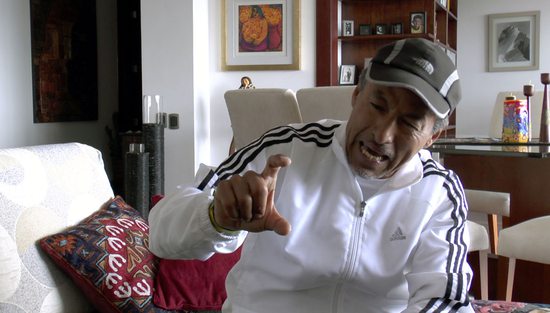 And then we met at other expeditions and, by a happy accident, I celebrated with Radek the achievement of my Crown of Himalaya on the summit of Dhaulagiri (8167 m). The Desafío Project was accomplished on May 1st 2008.
Never stop dreaming
When I was married, Lorena always supported me. It was very important for me. If the mountains were to be the reason of our divorce, it would have been a price too high. But we were in a different situation. We just got married too young and it turned out as a problem. But even despite not living together as a family, we still had two children, Andy and Kamilla. I've always had the support of my ex-wife. Sadly, last year she lost her battle with cancer. My daughter now lives with me. "Imagine that she doesn't care about sport, it says nothing to her." When I wanted to share my fresh experiences from McKinley with her, she replied like: "Dad, you're crazy. You could sit back at home in the warm, dine well and instead, you go somewhere to Alaska, to the freezing cold! You're just mad!" So now I've got this kind of support and understanding at home.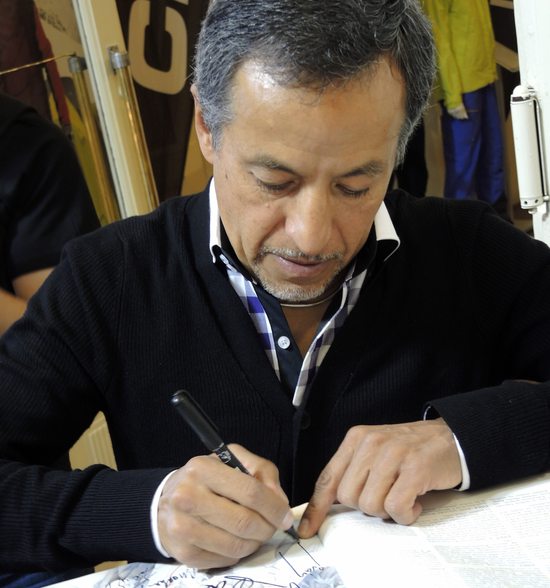 My older son Andy has somewhat more favourable view of my activities. But it took some time to find understanding and the right balance in our relationship. When he was sixteen, he came to me and said, "Dad, I want to climb Cotopaxi with you." It was the moment that all fathers wait for. I've never wished my son to become climber and I did not want to impose on him my ideas about life. Indeed, one lunatic is enough for a family. But at that moment I could not help and burst with enthusiasm. But Andy was quick to hold back my horses. "Hey, hey, slow down and listen, dad! I do not want to climb mountains like you, what I want is to understand why you do it. I want to know what you feel when you climb." It was a beautiful moment. He wanted to understand me. I think that the ascent of Cotopaxi didn't make a huge impression on him. Along the way he vomited and was terribly tired. Later on we gave it another try and in 2003 we even made a trip to the Everest base camp. I'm grateful for such moments with my children and I would never regret a single second invested into the relationship with them. "When you're out of home for a half of their childhood you have to try hard. You have to find your way to them. You just have to!"
♦ ♦ ♦
My biggest climbing projects are behind me. But I'm still full of passion and love for mountains. I like to go back to the essence, to what I dreamed of as a young boy when I was enjoying the first climbs of Illiniza Norte, Chimborazo... and that's my path. I love mountains. As long as I can, I will continue doing what I love. "I will never stop dreaming."
♦ ♦ ♦
Iván Vallejo Ricaurte (19 December 1959) is the first Ecuadorian and the first South American who managed to reach the top of all eight-thousanders. At the same time, he is the seventh person to have accomplished all the ascents without oxygen. He became an inspiration to many young people across Latin America and significantly contributed to the promotion of climbing and alpine tourism in his country.
1997 Manáslu (8 163 m)
1998 Broad Peak (8 047 m)
1999 Mount Everest (8 848 m). North Side
2000 K2 (8 611 m)
2001 Mount Everest (8 848 m). South Side
2002 Cho Oyu (8 201 m)
2003 Lhotse (8 516)
2003 Gasherbrum I (8 068 m)
2003 Gasherbrum II (8 035 m)
2004 Makalu (8 465 m)
2004 Sisha Pangma (8 013 m) South Face
2005 Nanga Parbat (8 125 m)
2006 Kanchenjunga (8 586)
2007 Annapurna (8 091)
2008 Dhaulagiri (8 167 m)
♦ ♦ ♦
Iván Vallejo & Radek Jaroš
http://www.youtube.com/watch?v=R4OldFH5jN0
♦ ♦ ♦