Chachani - 6075m
Added: Feb. 26, 2006 | Date of action: Feb. 20, 2006
Author:
Vladimír Linhart
|
Martin Linhart
Photos:
Vladimír Linhart
|
Martin Linhart
Tags:
2006
|
Andy
|
Arequipa
|
Chachani
|
Jižní Amerika
|
Misti
|
Peru
|
UNESCO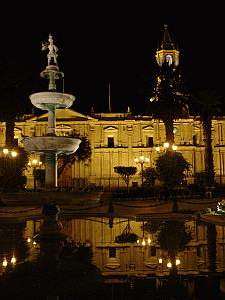 On the morning in Arequipa we started checking up various travel agencies. We wanted to learn what were the possible options and prices for ascents of the surrounding mountains. The most climbed and reportedly easiest to hike is the flawlessly symmetrical Misty volcano (5285m) standing out in the city backdrop. But it was the Chachani volcano that was complying with our 6000m aspirations. Chachani was obviously the summit of our choice. Eventually, in one of the agencies we not only beat down the price but we even persuaded them to set out the very same day. The standard departure is at 8:00h in the morning, we left at noon.
We supplied ourselves with enough water (10l) and food for the climb. Two days are needed to make it to the summit. The transfer by a jeep from Arequipa (2300m) up to the base camp in 4900m took us almost three hours. During the ride we were closely watching the worsening weather that was approaching to the mountain. Finally, it started snowing.
We got our heavy backpacks to the high camp in 5400m, pitched our tent and had a light snack. The guide was suggesting continuing straight to the summit without sleep. He argued that even though the clouds had passed by us there could be a massive snowfall in the night with as much snow as at Huayana! We agreed, reaching the top was our priority. We were supposed to be at the summit around midnight and down in Arequipa in the morning.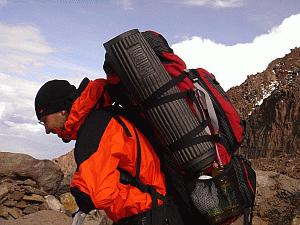 Martin put on his duplex shoes from the very start while Vladimir marched in ordinary trekking shoes and carried his plastic ones in the backpack. There was snow all around but it was hard, fortunately. During the daylight we were able to make 200 altitude metres and lose them again during a 2km-long traverse on the hill side. This brought us right under the mountain itself. From there on it was necessary not only to wear duplex boots but crampons as well. The temperature went down considerably after sunset.
Up until now we hadn't any problems but they emerged again. Martin hurried to hide himself behind a stone and relieved his guts. Vladimir followed in few moments. In Martin's case it had some painful consequences and his advance began to slow down substantially. After further 300m we were s(h)itting down once again. To Martin, it gave him such a hard time that he refused to continue. He seemed totally exhausted. We agreed to continue only with the guide and let him there waiting for us and to pick him up hopefully again on our way down. He could not descend on his own because of the gathering storm that began covering the path with snow very fast. We raked away the snow behind a stone for him to keep him protected from the wind blasts. He sat on his backpack and our destinies split.
They are here in a moment!
Vladimir and the guide said good bye to me while reassuring me that they would be back in three hours. So I lent my gaiters (they protect the shoes and lower part of leg from snow) to our guide with a light heart. In the course of the first hour of my picnic in 5750m I was feeling pretty good. Feather jacket, feather gloves, duplex boots (into which I forgot to put the second pair of socks) and gore-tex trousers (under which I forgot to wear thermo-underwear) resisted the 15-degree freeze rather well. But then all of sudden the wind became stronger and stronger and began to bring hell of a snow. The weather threatened to pelt me quickly by the snow and it required a lot of effort to get my legs clear of it. I had to exercise my freezing toes as well. The most annoying about the situation was that I was beginning to fall asleep. During one of the shake-ups I could neither feel nor see my knees. So there was another thing to exercise.
After four hours I started to think about descent. The weather wasn't any better quite the opposite an isolated descent was impossible. According to my mobile phone watch they should have been back here already an hour ago. I had better fallen asleep again. After one hour the light of a headlamp shone up above me.
Las Cumbres!
I and the guide continued upwards. Weather wasn't on our side, snowstorm began and I could sometimes hardly see the guide's footprints in the snow. He was a bit ahead of me. Fortunately it wasnt a headwind that would blow directly into my face. We were climbing up, hard to say how long, something around two hours perhaps. Then we got to a rather flat spot. The guide started hugging and congratulating me for the summit achievement. It wasn't like this that I was figuring on the summit, so I told him that this was not the top. He started spluttering something about lots of snow I asked where the cross was. We stacked our ice axes into the snow and I set out to walk around the fictitious summit. But with the visibility of two metres I didn't know where to go. It seemed strange to me that I was still slowly going up. The guide followed me closely and after few minutes we reached another summit, according to him. I kept asking about the cross. I suggested switching off our headlamps and waiting a little. One can see much better when the light doesn't reflect in the flying snow. It wasnt a great surprise to me then that we could finally see a huge black silhouette of the real Chachani.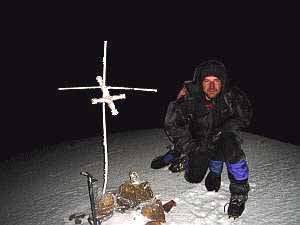 He started to apologize, saying he'd lost the way. In fact, his headlamp wasnt really something to write home about. We were standing on one of the side-summits - Fatima. After a little time-out the storm started raging again and we were slightly confused about where we were after searching for the cross. We couldnt find the way back to our ice axes. Finally, and in spite of the guide's warnings that we had been walking in circles we found them.
We had to descend a little more and then hike up again for another hour. We reached the cross at about 23:30h the summit! It was a wonderful feeling. It ceased to snow, the Moon rose and there was a spectacular view on the lights of Arequipa city. Only the wind didnt give up, so the picture-taking was rather a freezing exercise.
Collective descend
During the way down our guide was trying to reach the jeep driver on his mobile phone without any success. He made it only in the morning. When going down we found the frozen and shining Martin. He looked all right so we continued.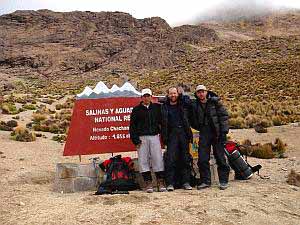 The descent was comfortable until the traverse where Vladimir's exhaustion became apparent and he could progress only very slowly. It's a good idea to keep an eye on your stuff when doing the traversing since there is a serious danger of slipping down. Vladimir wasn't careful enough and had to run some thirty metres on a 60-degree slope to catch his backpack which was rolling down. This accident delayed us by about half an hour and Vladimir also tore off one of his gaiters. We didnt eat at all throughout the way, afraid of digestion problems.
Tired we finally managed to reach the high camp. We lay down immediately. Our bodies craved the sleep. Disturbed only by a mouse running over our sleeping bags we got up only at nine oclock. After breakfast we carried on down to 4800m to meet our jeep.